Tribute to the Wetlands opened Saturday, August 21, in conjunction with the Atlanta Gallery Association's City-Wide Openings.
Because of the roots of Reinike Gallery in Louisiana and the Gulf Coast, this is a particularly meaningful show for the gallery and its artists.
Charles Reinike has for many years created pewter works celebrating natural elements from the coast.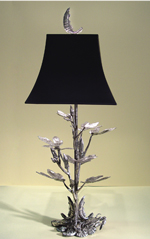 His gumbo lamp with it's oyster, shrimp and crab elements was created prior to the disaster and is a fitting reminder of the beauty that is beneath Earth's waters. Okra pods and leaves combine with the seafood to create the gumbo lamp.
Peter J. O'Halloran unveiled his newest work which coincidentally uses the Gulf Coast as his subject.
Other artists participating include New Orleans' artist Phil Sandusky whose work chronicles that city after Katrina. Joyce Garner, Gretchen Eppling and Vanita Smithey also have new works for the show.
The exhibit will remain on display through September 25.
2010 Opera Ball- Featured Artist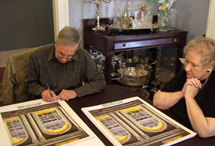 Charles H. Reinike III signing posters
for the Opera Ball with Yvonne Coe,
co-chair for the event.
The New Orleans Opera Association chose Atlanta artist (and New Orleans native) Charles H. Reinike III to create the painting for the 2010 Opera Ball. His painting, titled Facade, was auctioned at the Ball on April 10, 2010 at the Roosevelt Hotel in New Orleans.
The painting was used for a signed and numbered poster which patrons received. It was also reproduced on the front of the invitation and the auction catalogs